R-PET: This is how real recycling works!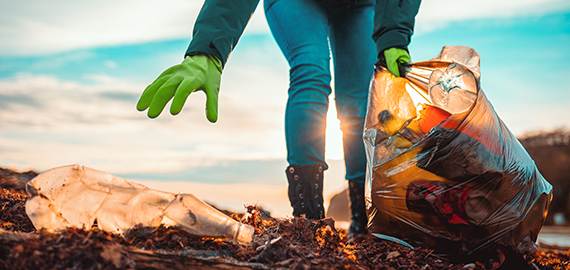 Recycling is a particularly important issue in the plastics sector. Climate protection and sustainability are the future issues of our time. Waste avoidance and recycling make an important contribution to this.
Recycled PET, or R-PET for short, is a food-grade raw material made from used and recycled PET packaging. PET is easy to recycle and here's how easy it is to recycle sustainably:
Disposed PET bottles are collected after use, sorted, cleaned, crushed into flakes and then processed into plastic granules. This makes R-PET particularly environmentally friendly, as fossil resources are actively conserved by using existing materials. Plastic that has already been extracted is returned to the production cycle and a new product is created - like our "Sports" drinking bottle. We manufacture these "Made in Germany" - directly on site using our own climate-positive green electricity and in compliance with the highest quality standards.
Our R-PET materials are tested and certified. The European Food Safety Authority (EFSA) has specific requirements for recycled plastics that are intended to come into contact with food. The R-PET we use has the legally required EU registration number in accordance with EU Regulation 282/2008. This ensures that the material may be used again in the production of food contact materials. R-PET has a very special look and is slightly darker than conventional PET. This does not affect the taste, smell or quality. On the contrary, items made from recycled PET are extremely high quality, durable and stable. When it reaches the end of its respective service life, the product made from R-PET can be 100% recycled again and reprocessed into a new item.
resource-saving
,
sustainable
,
elasto
,
sulzbach-rosenberg
,
made in germany
,
sustainability
,
environment
,
single-use plastic waste
,
R-PET
,
reprocessed PET packaging
,
recycling
,
recycled PET