#upcycling: Our future-oriented process for our application for the Bavarian Innovation Award 2021.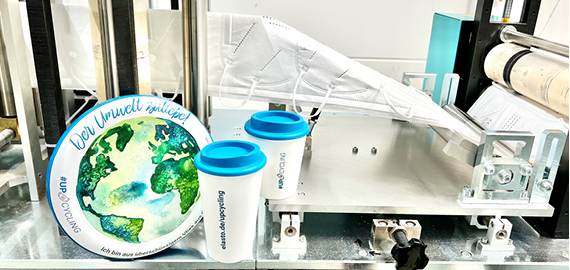 In the wake of the coronavirus pandemic and the global demand for respiratory protection masks, we expanded our product portfolio in 2020 to include the elastocare brand and the sale of protective items. Unfortunately, our fully automated FFP2 and FFP3 mask production process inevitably still involves a residual amount of non-woven fabric. Normally, this excess material is collected and disposed of as hazardous waste. However, as it is polypropylene, the question arises: why generate hazardous waste when it could be reprocessed for the production of our plastic products? Thus, the solution is essentially obvious: the leftovers from mask production are collected, recycled, and returned to the production process. Wonderful new products are created in this way.

And this is how the extraction of our upcycled material works: FFP2 and FFP3 masks are punched out of large rolls of non-woven fabric during production. The surplus non-woven fabric from our elastocare mask production is sold on to R-Plast, a company based in nearby Schweinfurt, where it is recycled and reprocessed. We currently use the recovered granulate on site, in the production of three products: the "Premium" small upcycling coffee cup, the "Premium" upcycling coffee cup, and the "Space Flyer 22"upcycling throwing disk.

Polypropylene is easy to recycle and reprocess. The upcycled material consists of 90% recycled raw material from elastocare mask production. 10% conventional plastic is added for improved viscosity during processing. Limits to this innovation are enforced solely by the legislator. The "Premium" upcycling reusable coffee cup consists of three parts - the lid, an inner cup and an outer cup. From the residual material from one day's production of FFP2 and FFP3 masks, approximately 10,000 outer cups for our "Premium" upcycling coffee cups can be produced. The recycled material from the mask production surplus may not be used in contact with food, due to legal regulations. For this reason, only the outer cup may be made of upcycled material. Plastic items that are not intended to come into contact with food are not subject to these regulations and can be made entirely from upcycled material. This also applies to our "Space Flyer 22" upcycling throwing disk.

The advantages of this innovation are clear to see. At the Sulzbach-Rosenberg site, we manufacture using our own green electricity and in compliance with the highest quality standards. By using the recycled material, we are increasing the sustainability of our products, while simultaneously setting an example regarding the responsible use of plastic. This brings two advantages in one: the new products are produced in a resource-efficient manner and, at the same time, contribute to waste reduction. What's more, they are in no way inferior to the classic products in terms of their colour, shape, and function. In addition, they also offer that certain something extra: the clear conscience that one can enjoy on account of the environmentally friendly manufacturing process.