Everything from a single source: our plastics production at the Sulzbach-Rosenberg site.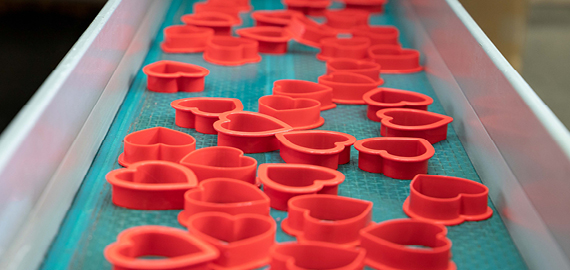 The Made in Germany designation of origin enjoys an esteemed reputation and is regarded worldwide as a guarantee of quality. Following several decades in which production in the Far East boomed, a rethink has been visibly taking place in recent years. Regional manufacturing has been becoming an increasing point of focus for some time now. For last but not least, domestic production means supporting German companies and thus complying with German quality standards. This produces shorter production times, flexible order processes and many other advantages. Another factor is the assured independence of the supply of goods, even in the event of unrest in the global economy. So why have it manufactured abroad?

Sustainability and environmental concerns: Topics such as sustainability and climate protection are increasingly becoming the focus of public attention. The emphasis is now on durable and high-quality items, rather than cheap mass-produced goods. In recent years, concern for the environment has, quite rightly, become a prominent issue on all sides. Also closely interwoven with environmental consciousness is the concept of manufacturing in Germany. Just consider the ecological added value that results from on-site production. On the one hand, there are a number of regulations in force in this country - since strict German standards ensure that production is as environmentally friendly as possible. On the other hand, transport distances of several thousand kilometres are saved compared to production in the Far East - thus avoiding several tonnes of additional CO2 pollution.

Creative ideas workshop – from the first idea to the finished promotional item: the project begins with the initial brainstorming. Manufacturing at our headquarters in Sulzbach-Rosenberg enables the productive exchange of ideas and flexible project management. We place particular emphasis on customer proximity and personal consultation - throughout the entire process chain. Our in-house product developers work alongside you, adopting a goal-oriented approach, to find the perfect solution. Regardless of whether special designs, finishing, or individual support.

Many of our plastic products are manufactured 100% climate-positively, right here at the Sulzbach-Rosenberg site. At first glance, it is not always clear quite what is involved in this process. Numerous cogs work together, to finally bring a finished "Made in Germany" product to the market. Everything from optical visualisation, to the creation of 3D hand samples and preparation for the series production of unique items is possible within the shortest of time. Moulds for the design of our plastic products are produced in our in-house mould shop, before being transferred to the plastic injection moulding department. There, the blanks are shaped and passed on to the print shop for finishing. The finished product from the Sulzbach-Rosenberg production facility is released for sale, bearing the "Made in Germany" label. Last but not least, elasto, as a local employer, also provides additional jobs and career opportunities within the region, on account of its on-site production. This strengthens the local infrastructure. Made in Germany - a win-win for both people and the environment.
climate-positive company
,
sustainable
,
100% recyclable
,
elasto
,
sulzbach-rosenberg
,
made in germany
,
sustainability
,
climate positive
,
idea workshop
,
short production times
,
quality standards
,
local production