Attention gourmets of ToGo gourmet food: Say goodbye to disposable waste!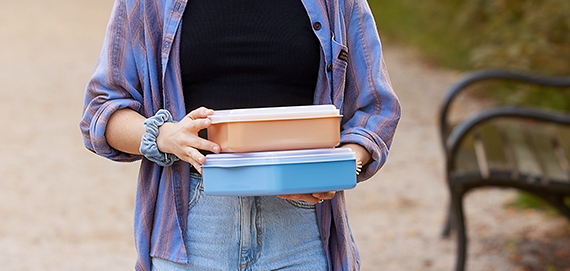 Our new elastoREuse range is the reusable and sustainable solution - for fast food without a guilty conscience.
A modern lifestyle, work, hobbies, sports, always on the go - sometimes cooking at home falls by the wayside. The number of take-away orders is continuously increasing, and with it the mountain of waste from disposable packaging. This means it is more important than ever to find a balance between human behaviour and its impact on the environment.
Long-life reusable packaging offers a contribution to solving this problem. elasto has been doing valuable pioneering work on this topic for years, including the development of our elastoREuse range. With the new elastoREuse boxes, we are declaring war on disposable packaging for take-away food. They are the sustainable alternative to disposable packaging. This finally puts an end to unnecessary waste production. The robust material of these boxes makes them particularly durable and environmentally friendly. The polypropylene boxes can easily withstand many rinses, saving a tremendous amount of disposable packaging and therefore costs for the caterer, as well as waste for the consumer. And that's not all! In comparison with the manufacturing and recycling conditions with alternative materials such as glass or metal, PP performs markedly better. Less energy is required in the manufacturing process and the material has a lower weight, which saves fuel during transport.
Legislation has also responded to the waste problem that single-use packaging causes. Restaurants are required to use reusable take-away packaging and our boxes are the ideal solution for restaurateurs, customers and the environment. A new packaging law was passed in January 2021: According to this law, restaurants, bistros and cafés that sell take-away food or to-go drinks must also offer their food in reusable packaging from 2023. The reusable version must not be more expensive than the product in the disposable packaging.
Thus, our boxes have been carefully designed and optimised in close cooperation with various restaurateurs. We have continued to refine the products and have perfectly adapted our REuse range to the requirements of the catering industry. As a result, for example, ventilation slots were inserted in the burger and menu boxes to protect the hot dishes inside from the condensing water vapour.
A central point in the REuse campaign is the constant expansion of the product range. elastoREuse offers a wide range of different boxes and bowls for every occasion in five different colours, all manufactured at the Sulzbach-Rosenberg site. This naturally means that other colour variants are also possible on request. By default, the boxes are finished by means of laser engraving, as this process has no implications with regard to their use or contact with food.
And if our boxes do eventually reach the end of their service life, we take them back free of charge and recycle them completely. The recyclate is turned into a wonderful new item and the cycle starts all over again.
reduction
,
climate-positive company
,
environmentally friendly
,
resource-saving
,
sustainable
,
to-go mentality
,
reusable instead of disposable
,
reusable to-go packaging
,
reusable take-away packaging
,
sustainable lifestyle
,
responsible
,
100% recyclable
,
elasto
,
to-go drinks
,
take-away food
,
elastoREuse
,
to-go
,
sulzbach-rosenberg
,
made in germany